Future of Real Estate in Kochi and Thrissur
Posted onJul 20, 2018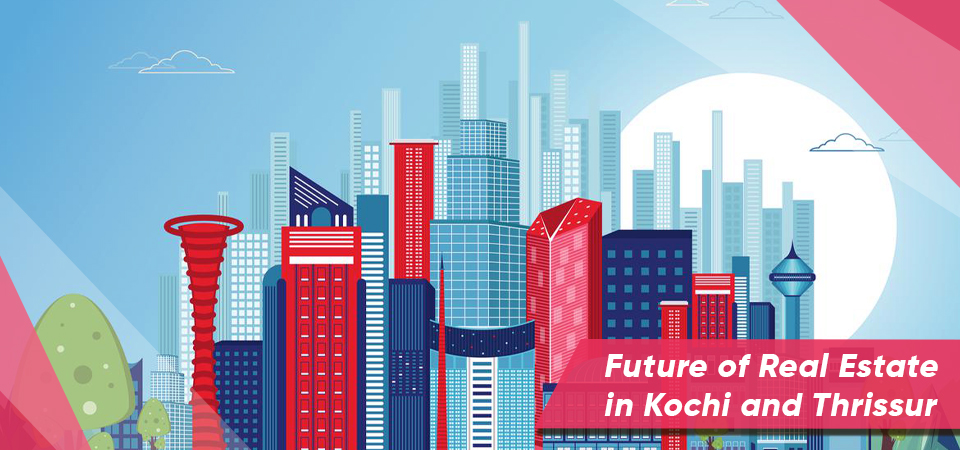 Kochi, Real Estate Investment Strategies in Kochi
With the increasing number of new apartment projects in Cochin which has already set a backdrop for such a promptly emerging city, there is also a strong sense of an honest pride in the minds of every Kochiates for the captivating infrastructural development by the Kochi Metro Rail Project that gave a complete makeover to the city of Kochi.
The latest news discloses that Metro is to touch Angamaly in the near future. The existing Metro line will be extended from Aluva to Angamaly. And the greater news is that the Kochi Metro service will soon be extended to Thrissur, which is just 50kms away from Angamaly. Kochi and Thrissur could now be easily connected via a metal belt, which will in turn boost the development of both the districts.
The metro connectivity to smaller neighbouring cities will immensely help in their growth and development. Kochi and Thrissur have been closely connected through trade and commerce for several years. And with the Metro Rail service, these twin cities will have greater accessibility to many places including the International Airport that will surely let them to share various growth prospects together.
The better international connectivity will greatly pave way for more global companies and cargo-based businesses to expand operations in the Cochin city and even in Thrissur. The enhanced employment opportunities will create a huge boom in the real estate market, making both Kochi and Thrissur the major real estate hotspots and residential hubs.
With the predictable flood of people that will shift base to Kochi and Thrissur due to the kind of quality lifestyle that both these cities offer, there will be high demand for luxury apartments in Thrissur and apartments in Kochi. The prime residential areas that are going to be swamped by people's attention are Thripunithura and Edappally in Kochi and Kottappuram and Poochatti in Thrissur.
Since the budding of vast number of 2 bhk flats in Thrissur and flats in Kochi, it's very much important for you to buy only the ones that live up to your expectations and meet all your needs.
When thinking of buying a new home, it's always best to go with the builder that you trust the most. One of the most promising builders of today, 'Varma Homes' have got some wonderful upcoming and ongoing projects in all the major locations of Kochi and Thrissur.
The new launch in Thrissur - Varma Spectrum, the luxury apartments at Poochatti is one of the most spellbinding creations of Varma Homes that is highly affordable with all the modern amenities possible.
Something else you need to further look at is the compact apartments of Varma Homes in Edappally called Varma Regent, the project handing over ceremony of which is to be held on 15th of January 2018. It is said to be the first project handover of the best builders in Kochi.
With an advantage of being located proximate to famous schools, railway station and other well-known places of worship, Varma Maalika, the luxury apartments in Tripunithura is one of the cleverest choices that you can make while looking for luxury flats in Tripunithura. The project handing over ceremony of Maalika is finalized to be held on 1st of February 2018.
Varma Kottaram, the luxury apartments in Tripunithura is one of the most desirable living spaces offered by Varma Homes for all the home seekers who look for a royal abode combined with elegance and most modern conveniences. It is one of the prestigious ongoing projects of the top builders in Cochin.
The Varma Padipura, luxury apartments of Varma Homes located in Tripunithura is one of the ongoing projects which is crafted to perfection that o?er breathtaking views combined with a lifestyle that is designed for high ?yers.
Ensure to make clever and wise decisions on real estate investments while the time is right in the most preferred cities of Kerala like Kochi, Thrissur and also Trivandrum. (To be continued?)