High Tech Amenities Offered in Real Estate
Posted onJul 20, 2018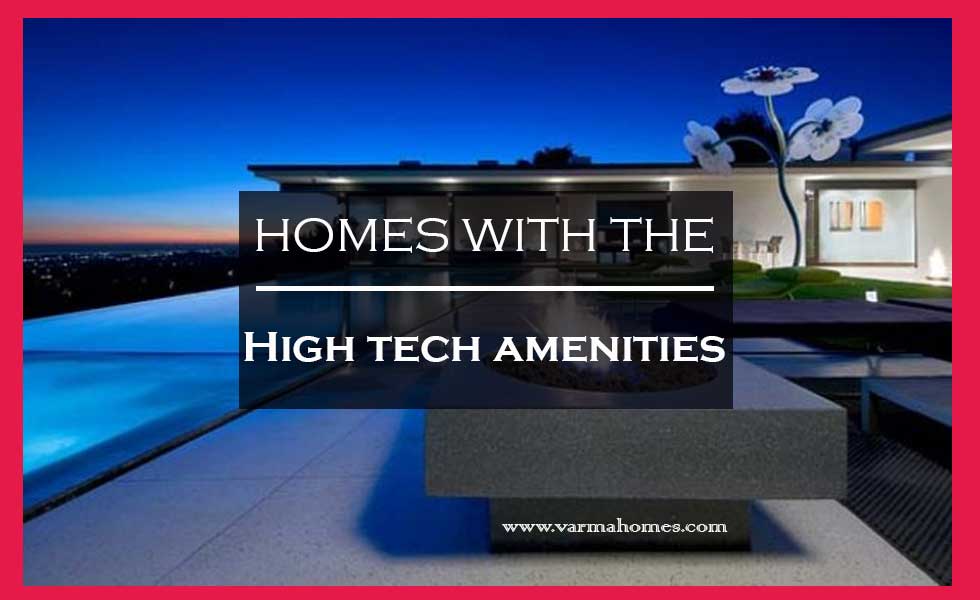 It?s common now for most residential properties, luxury or otherwise to come equipped with a host of fully loaded high tech amenities that make personal living experiences more convenient and super comfy whilst simultaneously weaving in work and business expediency.
Features such as business bays, fitness centres or concierge desks are now considered as given conveniences that are a must for the exacting demands of residents. In fact it?s not unusual for residential properties to resemble more on the lines of luxury resorts rather than simple lacklustre residences.
The sky is the limit and there really is no dearth of shortage of bespoke residences that fulfil every desire. So what then should you expect if you?re a home buyer looking for a property that will comply with your needs for today and appreciate suitably or phenomenally in the future as well?
Here, we?ll individually take a look at some of the niche amenities that are being offered to the conscientious customers of today whilst presenting an opportunity for realty investors to identify early opportunities in this segment.
Dedicated zones for entertainment and multimedia are no longer things of the past, they are the standing reality of today. As the world moves at lighting speeds with respect to technology, gaming and virtual reality zones are fast becoming a must have feature in residential complexes.
To that end, many developers are imbibing these dedicated zones in their blueprint plans. So while one can expect private Jacuzzis and spas conveniently located a few floors below their residences, it?s not going to be surprising to find private entertainment and multimedia zones located right next to them.
Usually most residential configurations already come pre-designed with multimedia zones within the house itself with special provisions for enabling it with ?smart? features. However, lately consumer needs have started gravitating towards incorporating the multimedia zone as a shared community space rather than a private feature solely accessible to the home?s inhabitants.
Many reasons can be attributed to this shift, mainly the fact that many large sized simulators are impractical within the house besides it?s more convenient to allocate the multimedia or entertainment zone outside the house and free up the space within for something else. Perhaps a private pool or a work station, as the individual requirements may go.
Those residential properties already having these types of zones allocate enough space so as to accommodate dedicated gaming zones, snug bowling alleys, virtual reality golf courses, cricket pitches and table tennis or lawn tennis simulators among other outdoor sports. What?s more, there will be high end gaming consoles and the latest play stations so that kids and adults alike can partake in their daily doses of some gaming action.
These sorts of entertainment zones are not intended purely as leisurely, recreational activities rather an opportunity at family bonding and professional networking intermeshed at one great, fun place, within the residential complex. Moreover as these zones are located within the complex itself, residents are saved from traffic jams and traveling woes - something anyone and everyone appreciates!
Did we mention about the mini theatres or screening rooms with super plush and comfortable seating options? Those too are very much an integral part of the entertainment zone. So residents can pretty much enjoy a session at the spa, work out at the high tech health club and saunter over to the entertainment zones and end the evening either playing some virtual tennis or catch their favourite movie, whatever catches their fancy first.
In the western countries, residential projects have fast caught on with these futuristic concepts. And it is thought that this will be a rage in the coming years everywhere. In fact, there are quite a few national developers who?ve even begun planning these niche features in their pipeline projects.
However, there is a considerable outlay for the developer and consequently the customer too. Hence it?s best advised for any new buyer to consider these aspects beforehand.
Varma Regent, compact apartments is being built at Edapally by the best property?builders in Kochi. At Varma Regent, located at Ponekkara, to say 'convenient' is an understatement. The unique combination transcend to a whole new realm of affordable 2 & 3 BHK luxury homes ranging between areas of 862 sq.ft to 1357 sq.ft.
Varma Regent is one of the current ongoing residential projects of Varma Homes at Edapally. Kochi's fast paced culture is at the doorstep with the phase I of the Kochi Metro Rail project commencing up to Edappally. If you are looking to buy an?affordable apartment in Edappally?with luxury amenities Varma Regent is the best option.
Varma Homes?is one among the?top builders in Kerala?offering high quality and affordable?luxury apartments in Thrissur, Kochi and Trivandrum. We always create the best living spaces meeting the requirements of our clients. If you are looking forward to buy apartments or?flats in Thrissur, Trivandrum, Kochi then contact us today. Call +91 9645 88 33 33 for more details.