Investing in Mutual Funds /Shares /Real Estate, Which is better?
Posted onJun 17, 2019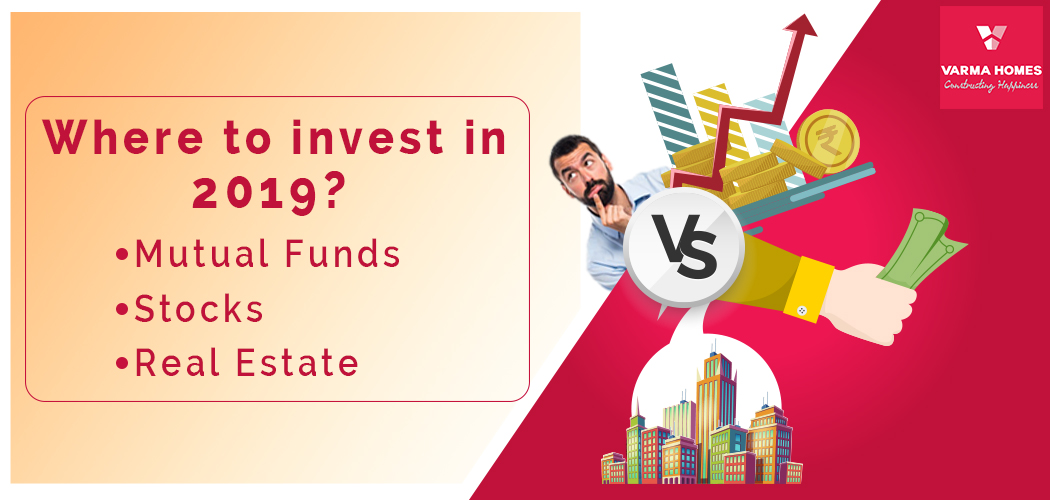 Investment strategies in Kerala, Kerala
?Mutual Funds/ Shares /Real Estate
Confused between mutual funds v/s shares v/s real estate? Get to know how financing in real estate is more constructive than shares or mutual funds. At present time of rising inflation and cumulative costs, it has become very tough to preserve a good r?gime with a poor source of revenue. It has made persons keen to search for other alternative sources of revenues. While investment looks like a money-spinning choice for extra earnings but again searching too many available alternatives on the niche market is genuinely a hard-hitting job to pick the best among them. Mutual funds, real estate, gold, shares, etc. are some of the key investment choices that one looks into, but each has its own pros and cons.
Pros & Cons of Real Estate
Real estate can give you benefits like rental income, security against inflation and capital appreciation.? If you have a plan to take a home loan, you will get full tax benefits against the interest as well as the instalments. When you invest in the realty market, it is time-saving and money generating which will give you various profits.
Pros:
Real estate increases in value over time.
Convenient and more comfortable to invest and develop with other supplementary securities
Concrete and substantial investment
Offer remarkable inflation conditions
Leverages in real-estate are harmless
?
Cons:
?? ? Before finalizing the deal, requires a lot of homework about mortgages, insurance, negotiation, titles, finding the right investment property, etc.
???? Time-consuming if you plan to rent or sell properties
???? Capital intensive in nature
???? Real estate has low liquidity
???? It requires maintenance
Pros & Cons of Other Assets over the Real Estate
A share market, equity market, mutual funds are the gathering of buyers and sellers. It is a loose network of financial transactions and not a distinct entity of stocks or shares. Mutual funds are the best way for the average investor to purchase investments which would be too difficult to manage on their own.?? But the truth is that the stock markets/mutual funds are highly volatile and risky to invest. Let?s have a look at the pros and con of other assets:
Pros:
When needed, it can be easily transformable into liquid cash
Gives investors broad diversification.
Less capital intensive in nature
The assets are controlled by qualified fund managers
Cons:
Investments made in these kinds of assets involves a higher amount of risk over real estate
Management Abuses
Needs in-depth knowledge and understanding while selecting good equity stocks
?If you wish to begin your investment with a very smaller sum and have high liquidity requirements, with steady investment, then mutual funds would be an excellent choice for you. If you have a significant amount in hand for the down-payment and have very long-term investment goals, then the real estate can give you good returns along with a steady rental income.? On the whole, financing in real-estate is less risky than equity shares or mutual funds. To invest in real estate is always an excellent choice, a solid and physical asset will always give immense satisfaction and big mental comfort over other financial assets like a mutual fund or stock. Obviously, mutual funds and stocks are also lucrative, but the risk factor is bigger. On the other hand, real estate is safer and the price of property always goes up after a few years. So returns are almost guaranteed.
If you are looking for a property in the prime cities of Kerala with future returns around 60 lakh to 1 crore in five years, then you can come to the Varma Homes. We have ready to move, ongoing and new launch projects in Kochi, Trivandrum and Thrissur. By investing at our projects, you will definitely get a guaranteed return. Our homes are designed for a lifestyle of comfort and convenience and also you can find a range of thoughtfully handpicked amenities to enjoy commutable city living. So get in touch with us to know more about our projects and avail the early bird surprises that await you!