What's the Wiser Choice: Apartment or Land?
Posted onAug 17, 2021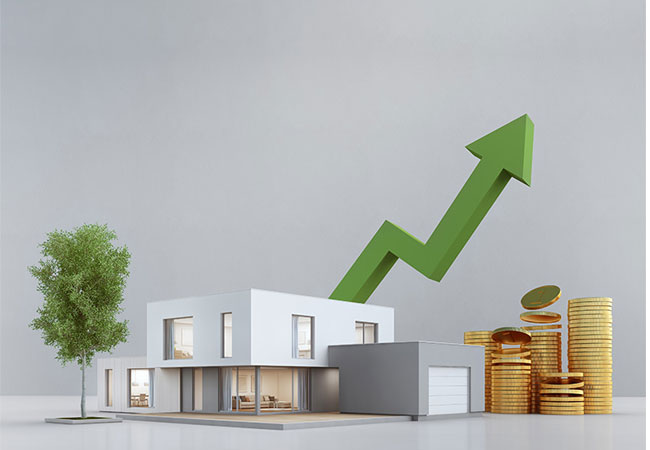 Kerala, Real estate market trends in Kerala
With the government's new initiatives in the real estate sector, buyers have a plethora of apartment choices. However, owning a piece of land still has an unrivalled prestige value. So, when it comes time to relocate or invest for a more secure financial future, many of us are caught between two options. Here we compiled this helpful list that will help you choose wisely!
Investment Factor
One of the primary disparities between a plot & an apartment is that you'll have to live in your very own house right from the moment you acquire an apartment & you'll save a lot of money on your rent. Whereas a plot allows you to create your own customized home, until then you won't be allowed to live there & you'll have to pay rent even if you invest in the plot. Also, when you buy an apartment, you can use it as an investment vehicle as you rent it to someone, but in the case of a plot, it won't be possible. So, compared to plots, an apartment is a smarter investment choice.
The Hassle Aspect
An apartment is actually a comprehensive package for standard living; you can select one that would be ready to move into where it contains all the things that an apartment life demands. Hence, you won't be worried about any further headaches or strain. A plot that you wish to build on is just land & you have to build it from scratch & you'll now have to deal with the troubles & groundwork of building the structure, obtaining legal permission, & ultimately upgrading it with lifestyle elements to keep it livable.
Financial Assistance
Finding financial help for the purchase of a plot is more difficult than for the purchase of an apartment, since financial companies are hesitant to lend money for the purchase of a plot. So, as a result, there are limited alternatives for purchasing landed property, as banks often do not provide financing for the purchase of a land/plot, but it is effortless to get a bank mortgage for the purchase of an apartment.
Compliance Aspect
In general, the plot is considerably more likely to get entangled in legal complications & litigation. So, when you purchase a plot, conduct thorough research on any conflicts, & ensure to keep an eye on it till you build your home on it. As in India, several issues are raised regularly relating to illegal land capture. Although these concerns are much reduced when purchasing an apartment when the buyer is protected by RERA & he or she has the right to go for a petition for compensating & remedial action, if the builder didn?t guarantee their promises. Accordingly, as a precautionary step, today's builders will exceed expectations to guarantee that all legal & financial requirements are met.
Return on Investment
A plot can be acquired for the intent of constructing a new structure to get profit, or it could be utilized for other reasons. If you plan to acquire an apartment, only do so upon assessing the growth prospects of a specific neighbourhood. Your apartment's ROI will be higher depending on where it is located. Because of the increased movement of workers from other cities, an apartment in a desirable location will always have greater rental yields, providing you with a monthly second income & assisting you in being financially secure.
Tax Treatment
The tax treatment of plots & apartments differs. As in the case of an apartment, first-time homeowners are eligible for specific tax breaks. The tax deduction for interest on plots is allowed only in the year where construction is finished. Interest accumulated during project construction can be reclaimed as a deduction across 5 years in equal payments beginning with the year the work is finished, resulting in a delay in tax advantages. Holding a plot as an investment is not tax-deductible, but you can request a deduction for the interest given. Conversely, if the plot remains barren, it might not be eligible for a tax break.
Value Appreciation
The plot has comparatively better value appreciation than an apartment. This is mostly due to the scarcity of plots on the market. The value of a property is determined by its location & proximity to major infrastructure developments. However, the land market is a cobweb, so when you buy, you must be vigilant. So the safest choice for individual investors is to buy apartments; keep it simple & get your 20 or 25% appreciation because the land is all about where you want to be on the risk-reward spectrum. Also, make sure to select an apartment from a reliable builder with a good location & surrounding infrastructure to increase the value of it.
Scope of Resale
Apartments are easier to sell as there is always a huge demand. Furthermore, apartments provide a variety of facilities as well as security features. The attraction of plots is that the owner owns the land & can create a new house to optimize returns. But when you plan to sell it, it may not be fundamentally enticing to a possible buyer market. He/she may then either invest more in repairing it or entirely demolish it to create a new one. This might have a reasonable impact on the price of the house. However, in the case of apartments, such an issue does not exist as they?re available with a fixed structure (part of the structure) &, thus, more convenient to sell at the value without extensive negotiations.
After considering your wants, financial status, & commitments, take the best alternative. Having a plot implies that you should be careful with some choices. However, the benefits for apartments may be far greater than for plots. Because everything is already in place, you may begin earning profits on the first day. It is critical to seek apartment properties in affluent locations and, of course, from a reliable builder, so that you'd have a good chance of making a regular return.
If you are looking for your dream apartment in the heart of Kochi, Thrissur, Thiruvananthapuram or even in Kozhikode, then do visit Varma Homes, one of the top ranking and most trusted builders in Kerala. We strive to enhance top-notch quality construction materials to create apartments that will stand the test of time. With us, you shall not be disappointed! You will get the guarantee of quality residential options that provide not just great living spaces but also a lot of happiness.