Why is Thrissur emerging as the latest hub for highly demanded apartments?
Posted onMar 14, 2022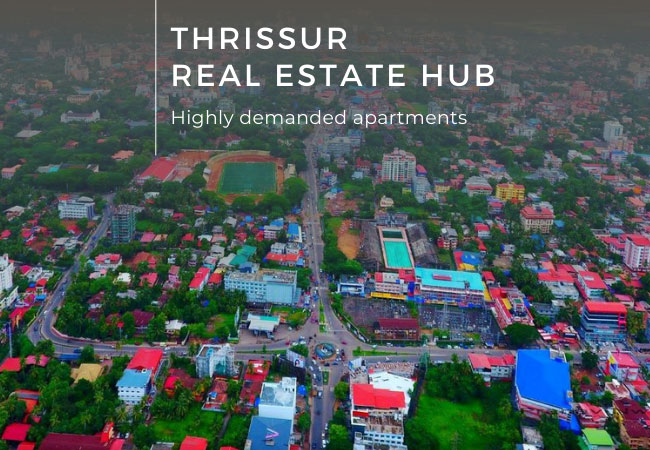 Real Estate Market Trends in Thrissur, Thrissur
Lush greenery, spiritual aura, and delightful cultural displays within a safe and peaceful environment sound quite pleasing to your senses, doesn't it? Frankly, this is what the glorious city of Thrissur, the cultural capital of Kerala, has to offer. It is a city that?s emerging as the trendiest spot for residential properties due to certain winning factors. Learn why this boost and high rise in demand are happening.
The Central Bridge
Thrissur is like the frosting on the cake because of its position in the center. North and South Kerala are connected by Thrissur, which acts as a bridge. Given the geographical location of Kerala's cities, not every city can claim to have easy access to the majority of its flats and apartments. It is simple to commute to different regions of the state as well as neighbouring states from Thrissur.
Facilities
Living in an apartment in Thrissur puts you in close proximity to key facilities that a family requires. The neighbourhood provides easy access to major shopping facilities, commercial centers, medical facilities, schools, and colleges. Well-known landmarks and religious centers are close by, so you can re-energize your spirits. The railway station and the airport are also easily accessible. People who reside in the flats here have access to these amenities whenever they want.
Excellent Investment
Due to the fact that Thrissur is a thriving business center where thousands of people come in seeking work, there will always be a demand for real estate properties to rent or lease. As an investor looking for a consistent source of income, buying flats in Thrissur will provide a favourable cash flow.
Return on Investment
Thrissur is a constantly developing region, and investing in its future is a solid bet, since the growing economy will only help your property's return on investment. If you decide to sell the property in the future, the price will only rise, and the longer you keep it, the bigger the profits will be.
Favourable weather
Thrissur is a green and sustainable city, noted for its economic development, environmental promotion, and conservation. It also enjoys the nicest weather, which appeals to potential property buyers. The steady temperature of the city helps towards the comfort and stability of modern life.
Rich Cultural Eloquence
There is the added benefit of a rich cultural atmosphere in Thrissur, which is known for its festivals and celebrations. The Thrissur Pooram and Vadakkumnathan Temple attracts visitors from all around the world. The district's cultural significance makes it one of Kerala's top investment opportunities. A flat in Thrissur might be a great place to spend the holidays. Thrissur's properties are in great demand during festival seasons, with visitors and tourists flocking to the city. It can be used as a cost-effective solution by a person or rented out.
Safe & De-stressing Atmosphere
This district has a wonderful ability to relax and calm people. Get away from the hustle and bustle of cities, pollution, violent crimes, monotony, and meaningless existence. Aside from that, this city is a secure location to live. The district is considered one of the safest in Kerala and South India.
VARMA SPECTRUM
Varma Homes invites you to take advantage of all this boon happening in the magnificent metropolis of Thrissur with Varma Spectrum apartments!
Varma Spectrum is located in Poochatti, with its wonderfully composed first-rate construction, reflecting the enthusiasm of the location, which is near the NH bypass and Bhavan's Vidya Mandir. With a proven competence in delivering dream apartments in Kerala, built with state-of-the-art construction ideas and world-class amenities such as a fitness center, furnished lobby, library, and indoor play area, we thrive to provide you with the best.
At Varma Spectrum, you are going to enjoy a trailblazing lifestyle. It is an essential asset for people looking for the greatest luxury flats in Thrissur that provide more than what any resident desires. Therefore, if you're seeking a unique living experience with globally acclaimed facilities, abundant flora, and a relaxing atmosphere, look no further. Thrissur, Kerala's cultural capital, is the hottest, happening place to own and live life.
Seize the opportunity to call Varma Spectrum your ideal home, which is nearing completion by August 2022. To know more about this project, please visit our website or call us at +91 9539 29 33 33.