Why Kochi Is the Perfect Place to Buy a Flat Right Now
Posted onSep 20, 2022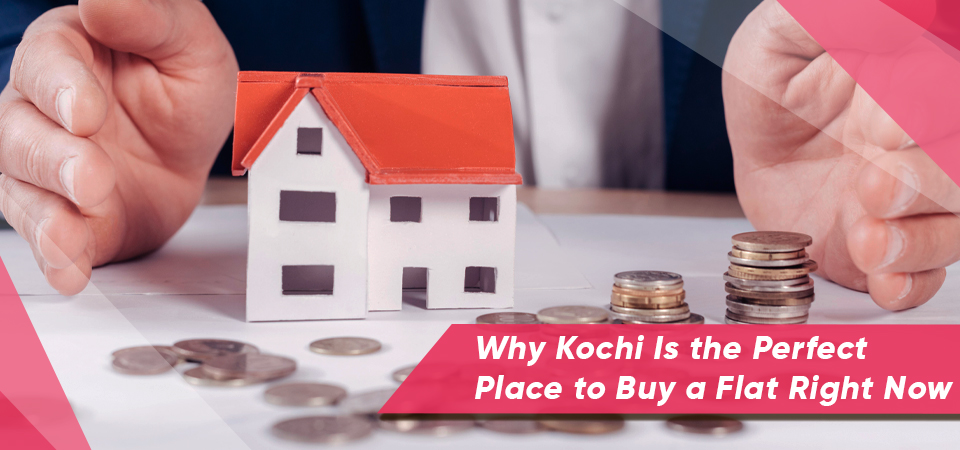 Kochi, Real Estate Investment Strategies in Kochi
There is no denying that India's real estate market is booming. The demand for property owners in the real estate sector has increased manifold in the last few decades. If you want to get into the property investment, then Kochi might be your place. The city of Kochi has a thriving real estate market and is home to some of the best properties in India.
Kochi is not just a smart city. It is home to airport terminals, commercial growth, port-based industry development, cross metro rail, tourism, massive career opportunities and foreign investment. Kochi also boasts a burgeoning IT industry. In this blog post, you will learn about some of the best reasons to consider moving to this city if you want to take your wealth creation to the next level with real estate investment.
Luxurious features:
Builders are delivering premium homes and apartments in Kochi with luxury facilities as the demand for luxury residences grows. The facilities you choose are entirely up to you, based on your needs and budget. Because it is an issue of your everyday commute, accessibility to your business and important routes should be considered. Shopping locations and transportation accessibility should also be considered.
Healthcare Facilities:
During this medical breakdown, the hospitals and primary health centres in the city have responded quite effectively. This resulted in bringing down the rates of affected people and helped to restore life back to normal. Passengers arriving at the railway station and airport during this time were given thorough check-ups and made sure they continue to take proper care for themselves, even if they were not admitted to the hospital. Being an owner of an apartment in Kochi means you are guaranteed to stay healthy and secured in good hands.
New international airport terminal to cater to growing demand
Cochin International Airport Ltd (CIAL) constructed an INR 1,100 crore international terminal with a built-up space of 15,00,000 sq ft. It is designed to handle 4,000 passengers per hour and the new international terminal will have a very positive economic impact and uplift the real estate market in the whole region. The catchment will witness the development of new retail and commercial spaces along with a good supply of residential and hospitality developments to cater to the increasing demand.
The increased international connectivity will also pave the way for global companies and cargo-based businesses to deploy and expand operations nearby. The international terminal, along with an operational metro, will significantly boost the city's real estate market and the catchment itself is expected to witness 15-20% rise in property prices.
Education and Profession
When buying apartments in Kochi, you should think about the educational and professional facilities available. Kochi is home to some of the country's most prestigious educational institutions. In the city, many foreign schools and institutions provide high-quality education. Kochi is now a burgeoning IT center, with the Infopark and Smart City providing a plethora of career prospects. As a result, professionals and the general public can find a wide choice of work and business opportunities in Kochi.
The Support system:
While we were busy living our lives indoors during the pandemic, there was a whole bunch of livestock, organic farms and godowns ready to serve the city's needs. Terrace gardens, farms and Fishermen folks slowly get their day-to-day activities eased and go smoothly, which essentially provides for you and your family in the future.
Destination of Opportunities:
Now, as Kerala has become the number one state in the entire country to show more positive signs in the recovery mode, the opportunities are flooding in. Being the perfectly modulated economic zone in the state, the city of Cochin is the number one prime spot for some major investments in the coming times. A recent report from a National Daily suggests that the manufacturers who are backing out from other countries are looking forward to investing more in India, especially in Kerala. This stands for new opportunities in business ventures and the job market. This way, it is possible to consider your apartment in Kochi and that dream will be paid off in the future.
Market for happiness:
The city of Cochin which we have witnessed, even before the pandemic was struck, has a lot in its bag and will reclaim its space, once it's all over. The hotels and restaurants are coming back to the track, the hangout places in Fort Kochi and Marine Drive will kick-start with people coming to share their thoughts and love. By securing your flat in Kochi you are invited to partake in these lasting moments of true happiness and smiles.
Bottom line
Kochi, not now but always stands for the richness of both culture and heritage making it a sought-after travel and tourist destination. This also makes a good reason for you to enjoy a bit of culture and heritage and carry forward the same in your life with your dream home.
With all modern amenities available on tap, buy flats in Kochi, an ideal location for buying your dream home.
For a luxurious and posh apartment, you can visit our website and look for flats in Ernakulam and Kochi. The team at Varma Homes is devoted to creating high-quality commercial and residential projects that are both inexpensive and attractive.