Why Do People Look Forward To Shifting Into Larger Homes?
Posted onSep 23, 2019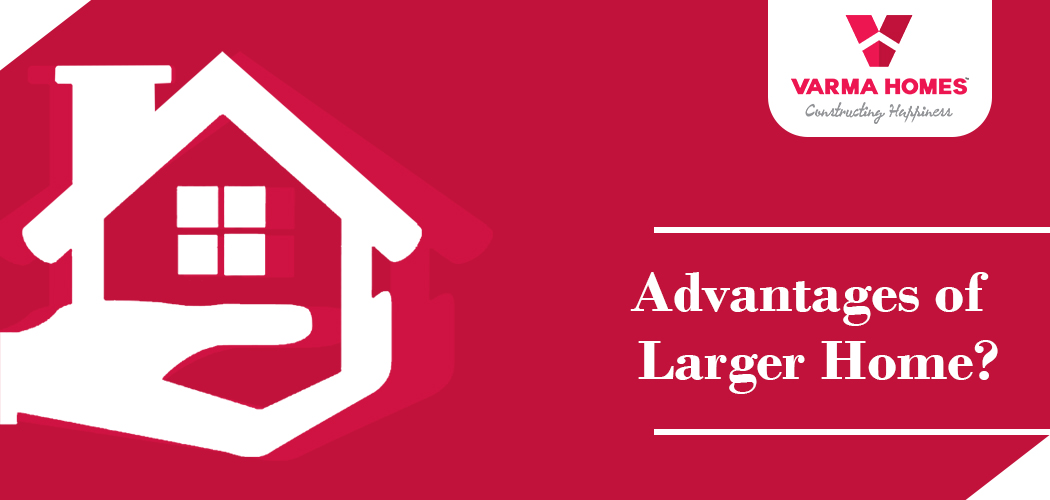 Kerala, Real estate market trends in Kerala
Owning a dream home or apartment is everyone?s wish list. The size of the home is one of the crucial factors for your home-buying decisions. ?In early times people first purchase a small flat and then move into a bigger home once they have a bigger family. Buying a spacious house isn?t going to get any inexpensive in the next 10 to 15 years, needless to say, the inflated interest rates when it comes to taking a loan. Therefore, now purchasing a larger apartment such as a 2 or 3BHK is a sensible choice as compared to waiting to buy it later. Before buying, you need to consider the future appreciation of property rates, amenity factors and other lifestyle.?So let?s have a look at the benefits of shifting into a larger apartment.
Various generations under one roof
By living in a bigger apartment, all generations can easily thrive under one roof. They can perfectly fit in your apartment, even when you have kids. And, surely, your kids will love the idea of spending more time with their grandparents which will help them to know the value of the relationship. On the other hand, if you have nuclear families, most of the home builders know the value of privacy. So they design separate rooms for parents and children. Also, with the increasing income of professionals, most of the people like to have a full-time maid or home nurse to give care for their kids and grandparents. Hence separate rooms for each one is essential. So by living in a bigger apartment, you can easily solve this room scarcity problem that you faced in your smaller flats.
Make comfortable office space
When you had a great business plan and dream to start with it, you can keep a specific space for your dreams in your bigger apartment. Or if you have to benefit the modern working choices like work-from-home, the extra room in your bigger apartment can be converted into the comfortable office space, letting you the choice to keep your work and home life separate though being in the same space.
Beautiful Interiors
?The careful designs and architecture of the 2BHK or 3BHK flats are beautiful, ground-breaking and contemporary, offering a modern family the best in terms of a posh and luxurious lifestyle. By owning luxury spaces, you can have spacious floor plans, wood floors, granite countertops and many more which is not possible in a smaller flat. A 2BHK or 3 BHK apartment goes a step beyond and promises a classy and chic living experience.
Avail hangout rooms for all age group
When you decide to shift from compact to luxurious living, there you have another advantage that availability of enough rooms for everyone. Because everyone needs a place to be comfortable and relax. Especially if there are any older people, there is a room that they can relax and indulge in their own favourite activities with full privacy. In the same manner, the younger and the middle generation get their own spaces to chill with their friends or to boost up their own inner self. So when you have bigger apartments you don?t need to worry about the hangout rooms for you & your family members, as there are rooms for every kind of age group.
Better security systems
Living in a luxurious 2BHK or 3BHK apartment promises you increased safety and also prevents intruders from entering your home. You can just relax without any safety fears for a good night?s sleep. This is more useful and vital when there are kids and elders at home. ?So in this era of frequent robberies, with better security systems you can be sure that you are safe at your home.
Good investment with less money
To invest for a longer run, undoubtedly investing in 2 or 3BHK apartments is beneficial. You can buy luxurious housing spaces at a price comparatively much lower plus more benefits instead of buying compact apartments. As the demands are quite high, the resale value of apartments is always greater than invested. The percentage of profit depends upon the location and demand of the region, but getting a profit is for sure. Be it for end-user or rental, investing in a property in metropolitan cities at present proves to be a smart decision.
So the final concluding part would be that why not opt for bigger apartments which are armed with all modern amenities and facilities creating life a smart and finest experience for you and your family and bringing together the exact mix of comforts and convenience of the city.
Looking to buy apartments in Kochi? It is about time that you check out the residential apartments at Varma Homes as we are the top builders in Kerala. Each of our residential projects in Kochi come with an extensive series of high-end apartments. Take a look into our most prestigious projects like Varma Maalika I, Maalika II, Padipura, Kottara and Bougain Heights Purple at Tripunithura. A combination of the high-end amenities, backed up by great connectivity and an efficient transport system including the advantage of metro services, is what attracts a person to invest in property at Tripunithura.? From the numerous choices, you can choose your perfect one that focuses on your housing needs and demands.